We're excited to announce our new club member referral program!
We believe that wine is meant to be shared with those you love, so we created a unique offering for you to share more of what you love about being a club member at Ruby Hill Winery.
Starting August 10, 2020, you have the opportunity to earn 500 Bonus Grape Rewards Loyalty Points for each new friend that joins the club. There are no limits on how many people you can refer - just make sure that your friend mentions your name to the wine ambassador when they sign up. Both you and your friend will receive 500 Bonus Grape Rewards Loyalty Points, which will be deposited into your account within 7 days.

*Offer is valid for current club members and we kindly ask that new club members be in good standing and receive at least one club shipment; otherwise, bonus points may be deducted from your account.
If you are not yet a club member, you can learn more about our club options here. Those interested in joining the club can join at the tasting room 7 days a week from 11:00am-5:30pm or may call the winery directly at 925-931-9463.
It's August, and we are counting down to harvest!
We started to see signs of veraison in the vineyard almost two weeks ago, but as you can see, the black grape clusters are developing more and more color, the green grapes start to take on a translucent quality. What, exactly, is veraison? The official definition of veraison is the "change of color of the grape berries," however, when we talk about veraison, we are also talking about the onset of ripeness in the berries as well.
This week, the viticulture team is moving through the vineyards and dropping fruit. What does it mean to "drop fruit?" It is a vineyard practice where some of the fruit is cut away from the vine so that it can focus its energy on ripening grapes and maintain optimum concentration of flavor in the grapes. Let our winemaker, Jesse Plautz, take you on a little tour of the vineyard for an explanation of the process and why it is so important.
Let us hope that mother nature continues to offer us favorable weather as we press on toward harvest!
Today we celebrate the glorious avocado! As the official fruit (yes, it's a fruit!) of California, the avocado is the star of many California-inspired dishes and used for dressings, dips, salads, and even fries. We love it for its creamy texture, versatility, and fresh flavors. Today, we're sharing a recipe for a simple dip to enjoy over the weekend, a Chunky Avocado-Papaya Salsa.
We're pairing it with our Grapeful White, a crisp and refreshing summertime wine. Our 2017 Grapeful White is a blend of Trebbiano and Sauvignon Blanc. Trebbiano is an Italian wine grape known for its fresh peach and citrus flavors and elevated acidity. Our Sauvignon Blanc is also high in acid with aromas that lean toward ripe and tropical fruits. Together, they make a refreshingly crisp white wine with hints of exotic fruit and overtones of lime blossoms. Sounds like a great wine for an avocado salsa!
For the month of July, enjoy the 2017 Ruby Hill Grapeful White for just $17 a bottle. You can shop today for curbside pick-up or have it delivered straight to your home.
Chunky Avocado-Papaya Salsa
Ingredients
2 medium-size ripe Hass avocados, halved, pitted and cut in small dice
1 small ripe papaya, halved, seeded, peeled and cut in small dice (about 2 cups dice)
1 tart apple, unpeeled, or Asian pear, peeled if desired, cored and cut in small dice
¼ cup freshly squeezed lime juice
1 fresh red or green serrano chile, seeded and thinly sliced or minced, or more to taste
¼ cup chopped cilantro
2 tablespoons chopped fresh mint
½ small red onion, diced small, soaked for 5 minutes in water to cover, drained and rinsed (optional)
Salt to taste
Directions
Combine diced avocados and papaya in a medium bowl. Add remaining ingredients and toss together. Season to taste with salt. Serve as a salad or a salsa.
See! We told you it was easy. We hope you enjoy your weekend. Tag us on Instagram @rubyhillwines the next time you open a bottle of your favorite Ruby Hill wine!
If you're reading this, then the chances are that you like wine. It's one of life's luxuries that brings our friends and loved ones together, excites the senses, and elevates the ordinary day. We all have our favorite wines for everyday drinking, but sometimes there are a few bottles we reserve for those special occasions. Have you thought about taking it one step further by becoming a wine collector?
The idea of moving from wine enthusiast to wine collector might sound intimidating, but we want to offer some suggestions on how you can start to build a collection of wine at home for you to enjoy in the future. What makes wine collection exciting is that there is the potential of your wines to gain in value, it's also a fun way to collect memories and give gifts. We have friends gift new parents with a nice bottle of wine from their children's birth year for them to open when they turn 21 or get married. You can be the hostess with the most-ess when you offer a vertical tasting at your holiday dinner. The opportunities to enjoy your collection are endless.
Here are a few tips on how to start building a collection of your own.
1. Set a budget
Decide how much you can dedicate to building your collection. You can start building with just a few hundred or a few thousand. Deciding on your budget ahead of time will help you determine your approach to collecting.
2. Create a system for storage
Pick a system for storing your wine safely. To maintain the integrity of your wine, it's essential to keep it as stable as possible, particularly when it comes to temperature. When wine gets too hot or experiences too many changes in temperature, it degrades the wine and shortens its life. If you are unable to create a cellar in your home, start with a wine cooler with temperature controls for both white wine and red wine.
3. Keep inventory
If you plan on collecting expensive wine, you'll want to make sure you have an accurate record of your wines for insurance purposes. It's also helpful to use a tracking system that has vintage notes and a vintage chart, so you know the ideal time to drink or hold your wine.
4. Buy what you like
The best wine to collect is the wine you enjoy. Your collection should reflect your tastes! Look to the wines you enjoy drinking now, and ask your favorite wineries if they have library wines for sale.
Now you're on your way to becoming a collector! Did you know that we have a club option specifically for library wines? When you become a Ruby Hill Wine Club Member, you have the opportunity to add the Library Club. The Library Club offers you two additional allotments per year of wines specially curated by the winemaker. You'll also enjoy the added benefit of a complimentary Portfolio Tasting experience for up to 4 guests! Learn how you can become a member today!
Last week, we received the great news that our 2016 Ruby Hill Petite Sirah took home the award for Best in Show at Tri-Valley Conservancy's annual Livermore UNCORKED wine competition! UNCORKED is a local wine competition showcasing wines made from grapes grown in the Livermore Valley AVA. There were a total of 123 entries, with 69 of those entries making it to the final round where they were judged blindly by Jim Gordon of Wine Enthusiast, Laura Ness of Spirited and Wine Industry Advisor, and Fred Swan of NorCal Wines.
It seems fitting that a Petite Sirah should be the wine that won Best of Show as Petite Sirah has a reputation for producing wines of distinction in the Livermore Valley. John Concannon bottled the first bottle of Petite Sirah in the Livermore Valley in 1963. The variety is the child of the grapes Peloursin and Syrah and is loved for its inky color, full-body, and flavors of blueberry, chocolate, plums, and black pepper.
The 2016 Ruby Hill Petite Sirah is a blend of 91% Petite Sirah, 4% Zinfandel, 3% Petit Verdot, and 2% Merlot. Cocoa, baking spices, vanilla, and vibrant dark fruit bursts through on the nose. On the palate, subtle hints of tea leaf and tamarind reveal themselves at the beginning, and the finish is long and satisfying with a focus on cocoa, cream, and vanilla.
Heading into 2016, Livermore experienced more rain than usual in the offseason. It was a warm year marked by cool nights, which is fairly ideal growing conditions. Though there were more hot days than we would have liked, the cooler temperatures at night (diurnal shift) helped the grapes to ripen and maintain flavor while also maintaining acid.
Despite the hot weather, we were able to keep the Petite Sirah sugar levels in a good place relative to the ripeness, so we picked it at nearly an ideal time. The harvest dates were relatively normal timing, ranging from late September to early October. The wine was a blend of some early pick and some late pick Petite, to balance acidity, alcohol and ripe flavors in the final wine. We then aged the wine aged in a mix of 60% New French (38%), American Oak (54%), and Hungarian Oak (8%) for 22 months before bottling. The result is an intense and rich, yet quite approachable Petite Sirah.
Our 2016 Ruby Hill Petite Sirah was not only Best in Show but took home Double Gold, Best in Class, and Best Red! Talk about a grand slam! Please join us in celebrating with our outstanding winemaker, Jesse Plautz, for his great work in helping Ruby Hill live up to being the Jewel of Livermore Valley!
Want to try a taste? You can order the 2016 Ruby Hill Petite Sirah in our online shop, or swing by the tasting room and enjoy it as part of our flight!
Like most businesses, we have had our ups and downs, but nothing compares to what we have all experienced this year. We have been overwhelmed by the support and well wishes we have received from you, whether in person at our curbside pickups, via phone and email, or through your online orders. We are so grateful for our club members and loyal Ruby Hill customers!
We are pleased to announce that we can welcome you back to the tasting room!
To ensure that you have a fun and safe time at our winery, we have implemented a few changes to our tasting experiences.
Walk-ins are welcome, Monday through Thursday.
Reservations are required Friday through Sunday. We have three different time slots available for your weekend reservations: 11:00am, 1:30pm, and 3:30pm. You can call the winery at (925) 931-9463 or email us at info@rubyhillwinery.net to secure your reservations.
We have three pre-selected flights for you to choose from that showcase our award-winning wines.
We kindly ask that you not bring in outside food. Our deli is fully stocked with wine, cheese, and gourmet crackers that pair perfectly with our wines!
For your safety and ours, mask or face coverings are required when not seated for your tasting.
We kindly ask that you limit your party size to no more than 6 guests.
Wine is about bringing people together to create memories. We are grateful to be able to provide you the great wine and superior service we are known for here in the Livermore Valley. We can't wait to see you!
It's getting hotter, and we are stocking the fridge with white wines for relaxing by the pool. What perfect timing for July's Wine of the Month, the Ruby Hill 2017 Grapeful White!
Our 2017 Grapeful White is a blend of Trebbiano and Sauvignon Blanc. Trebbiano is an Italian wine grape known for its fresh peach and citrus flavors and elevated acidity. Our Sauvignon Blanc is also high in acid with aromas that lean toward ripe and tropical fruits. Each wine was fermented in stainless steel, then aged in neutral oak barrels for nine months before blending. Together, they make a refreshingly crisp white wine with hints of exotic fruit and overtones of lime blossoms. It's a perfect summer wine for fish dishes, pasta made with white sauce, or a summer salad like the Honey Lime Fruit Salad from Cafe Delights.
For the month of July, enjoy the 2017 Ruby Hill Grapeful White for just $17 a bottle. You can shop today for curbside pick-up or have it delivered straight to your home. Put a few bottles on the table for your Independence Day celebrations along with this yummy and easy fruit salad!
Honey Lime Fruit Salad
Ingredients
1 pound (500 g) strawberries washed, hulled and sliced
3 kiwi fruits peeled and sliced into half moons
2 mangoes peeled and diced
10 ounces (300 g) blueberries washed
1 cup green grapes halved
9 ounce (250 g) can pineapple chunks or pieces (or 1/2 of a fresh pineapple, peeled and diced)
3 tablespoons honey
1 tablespoon fresh squeezed lime juice
1 tablespoon pineapple juice (from the canned pineapple, if using)
Directions
Place prepared washed and sliced or diced fruits in a large salad bowl.
Using a measuring jug, combine the honey, lime juice and pineapple juice. Pour the syrup through the fruit and mix well. Mix the juices accumulated at the bottom of the bowl once again before serving, if not serving immediately.
If you'd like to continue to sip safely at home, we're offering complimentary ground shipping when you purchase 6 or more bottles. Shop today and have your favorite Ruby Hill Wines delivered straight to your door.
When was the last time you spent time really diving into the treasures of the Livermore Valley? It can be easy to overlook what is immediately around us, but when we take time to be intentional about exploring our home towns, we can discover, or rediscover so many lovely things. Better yet, we have the opportunity to support our local community!
The Livermore Valley is home to world-class wineries and wines, fantastic restaurants, beautiful parks and trails, and great shopping. We hope this sample one-day itinerary helps you plan your next staycation in the valley!
Arrive at your beautiful room at the Purple Orchid Wine Country Resort and Spa. Settle in for the evening with bespoke accommodations featuring views of historic Livermore Valley vineyards.
Wake up from a good night's sleep and enjoy the complimentary breakfast offered by the Purple Orchid, or take delight in a lovely cup of coffee and a down-home meal at Sideboard Danville. Give the Breakfast Mac a try!
Take in a quick, yet challenging, round of golf at Callippe Reserve Golf Course or head back to the Purple Orchid for a relaxing spa treatment before your wine tasting at Ruby Hill Winery. Our beautiful estate is nestled among the vines just off Highway 84 where our knowledgeable staff will provide an enjoyable wine tasting of our estate wines.
Stroll through downtown Livermore and take in all the beautiful murals that were recently painted as a public art project.
(image courtesy of Livermore Patch)
End your evening with a delicious meal and a bottle of wine. Visit Tri-Valley has a comprehensive list of restaurants to suit your tastes and many of them have reasonable corkage fees so that you can enjoy your bottle of Ruby Hill wine with your dinner. Branch out and try something new!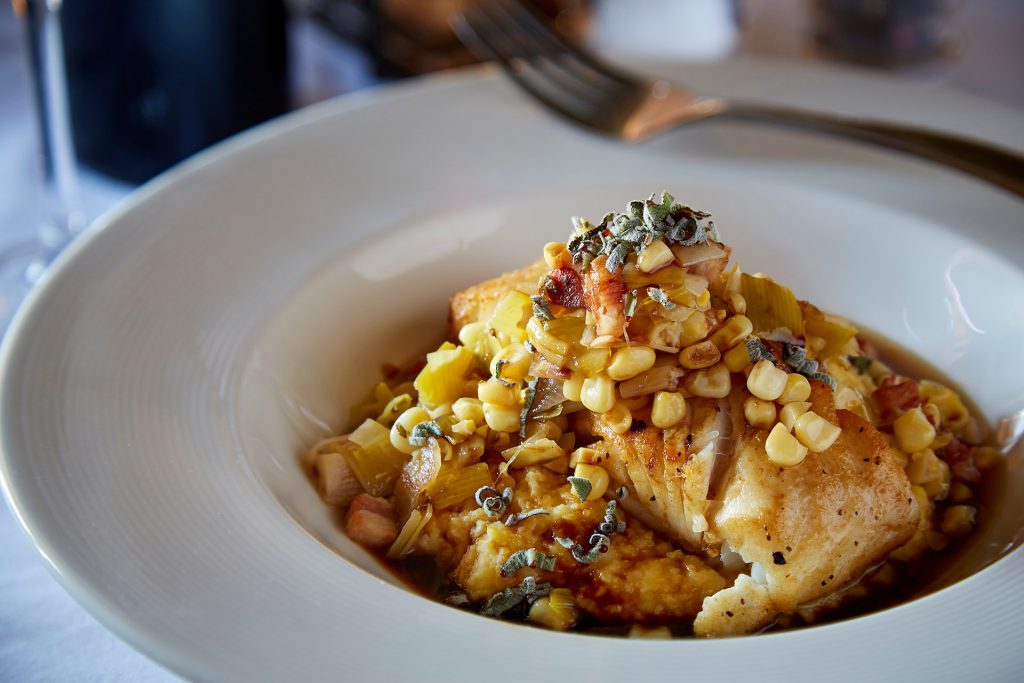 We've barely touched the surface of all there is to do in Livermore Valley. We're fortunate to call this beautiful place home. We hope to see you soon!
Sunday is Father's Day and we are looking forward to spending a little bit of time with our dads to celebrate them. If you want to give Dad a break from manning the grill, we are sharing a wonderfully simple recipe of Flat Iron Steak with a Ruby Hill Reserve Cabernet Sauce. Did you think you could only drink wine with steak? We are firm believers that when you cook with wine, you should only use wine that you'd drink. That's why we're using our 2016 Ruby Hill Cabernet Sauvignon. This 2016 Reserve Cabernet is a bold and rich representation of the old Bordeaux classic. The fruit was carefully farmed and vinified to produce a rich, well balanced, and flavorful wine. It has flavors and aromas of boysenberries, dark cherry, and vanilla with hints of chocolate, toasted oak, and black pepper. It's the perfect wine for a well-seasoned steak like this one.
We hope you enjoy celebrating all the father figures who support and champion us!
Ingredients
1 (1 1/2-pound) flat iron steak
1 cup beef broth
1 cup Cabernet Sauvignon (recommended: 2016 Ruby Hill Reserve Cabernet)
3 tablespoons canola oil
1 tablespoon grill seasoning
1 shallot, diced
4 tablespoons unsalted butter
Kosher salt and freshly ground black pepper
Directions
Take the steak out of the refrigerator 20 minutes before you are ready to cook it so that it can come to room temperature. This will help it cook more evenly.
In a small pot over high heat, add the broth and wine and simmer until reduced by half, about 10 minutes.
Heat oil in a cast iron skillet over medium-high heat until it is very hot. Season the steak with the grill seasoning and put it in the skillet. Cook about 3 minutes per side for medium-rare. Remove it from the pan, cover it with foil, and let it rest for 5 minutes while you finish the sauce.
Reduce the heat under the skillet to medium and add the shallots. Cook until they begin to soften, about 3 minutes. Add the reduced broth and wine mixture and cook until thickened, about for about 5 minutes. Stir in the butter and cook until the butter is melted and incorporated into the sauce. Taste and adjust the seasoning with salt and pepper, if needed.
Slice the steak against the grain into thin slices, arrange them on a serving platter and serve with the sauce on the side or poured over top.
Need a break from cooking? Support our local Tri-valley restaurants as they begin to welcome back customers! Not close enough to see Dad this week? Send him a gift. Our Ruby Red Pack is a perfect gift for the dad that loves to grill.
We know you love the Grapeful Rosé as much as we do. Before COVID-19, we couldn't wait to share it with you on the patio or in the new Wine Garden, sipping on the new rosé while nibbling on your favorite cheese and crackers. Alas, we're continuing to happy hour at home, making cheese and charcuterie boards to enjoy on the back patio while we pretend we're back at our favorite wineries.
The warm weather this weekend is a perfect excuse to celebrate National Rosé Day with a bottle of Grapeful Rosé. This beautiful rosé wine is a blend of Nebbiolo, and Petit Verdot gently pressed to attain a delicate light pink color. The nose reveals fresh rose petals and floral notes, while on the palate, peach, plum, and apricot flavors offer a lingering finish. Here are a few of our favorite local cheeses for you to enjoy alongside your glass of rosé.
Local Cheeses to Enjoy with Grapeful Rosé
Mt. Tam by Cowgirl Creamery — You've probably seen this cheese in your local grocery store. Named after the Northern California landmark, Mt. Tamalpais, this cheese is made from Straus Family Dairy's fresh organic milk.
Humboldt Fog by Cypress Grove — This soft-ripened cheese is made from buttermilk and fresh cream, and has floral and herbaceous notes.
Petite Brie by Marin French Cheese — This one is also easy to spot in the grocery store. It's creamy, tangy, and fresh; a perfect cheese for many styles of wine.
Boont Corners by Pennyroyal Farm — A firm cheese for those who love cheddar, the Boont Corners is dry, tangy, and sharp.
Apricot-Chili Chevre by Nicolau Farm — A little sweet with very mild spice, this fluffy goat cheese has lovely hints of citrus.
Let us know which ones you pair with your Grapeful Rosé by tagging us @rubyhillwines! Happy National Rosé Day!
​
Enjoy complimentary ground shipping when you order 6 or more bottles.
Sign Up For Our Newsletter
Keep up to date on the latest wine releases, events, and promotions.